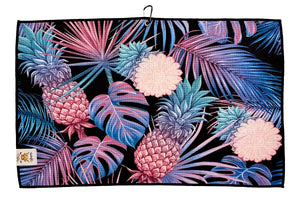 The Fineapple
The Fineapple Golf Towel
This towel is a tropical escape. Hang this stylish microfiber golf towel on your bag, and get ready to turn any public muni into a tropical oasis.
Golf Towel Features:
Microfiber waffle weave texture is the perfect club cleaning material
Carabiner Clip for easy access from bag to green
Tropical front side pattern & solid pink backside ensures that your bag never gets lost in a sea of boring bags.